Welcome to Blooming Flowers LA. In our store you will find great variety of flowers and styles for your different occasions. In our category of Angel Wings Flowers, you will find different flowers and styles. For example Custom Made #56
Angel Wings #56 is one of the best selling flowers in our store. It's a great choice for every occasion!. Is a flower that you can find in our store, in different styles and with different flowers. Our Angel Wing #56 is one of the examples of how beautiful our angel wings are.
WhatsApp: https://wa.me/12137001736
Our Email: sales@bloomingflowersla.com
We are proud to offer a variety of flowers arrangements that may differ for certain occasions and events. For example Angel Wings #56 is suitable for birthday or anniversaries. You can choose Angel Wings Flowers for Mother's Day, Easter and many other holidays. Celebrate your loved ones today by sending flowers from Blooming Flowers LA.
Our Angel Wings Flowers are designed by us for our clients. We will be happy to assist you in choosing the best flower that matches your flavor, style and budget.
In our Angel Wings Flowers collection, you will find unique and exotic flowers. From purple roses to orchids and succulents, the selection is overwhelming. Here are some of our favorite choices: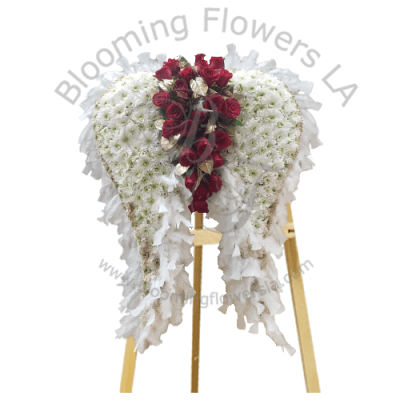 We know that flowers are a great way to express your emotions, and our team of florists is ready to help you pick the perfect bouquet. With only a few clicks, you can place an order, and we will make sure your happiness is delivered to anyone.
Welcome to Blooming Flowers LA, your flower shop with a flair for style, elegance and creativity. We are dedicated to making sure that each and every order is just right now.
Express your emotions with flowers!
Shop now in Blooming Flowers LA